Hensotherm 820KS Intumescent for Concrete
HENSOTHERM® 820 KS improves the fire-resistance time of pre-stressed concrete hollow ceilings up to 120 minutes, that of reinforced concrete beams and supports up to 150 minutes, and that of concrete flat slab ceilings and reinforced concrete ribbed slab ceilings up to 240 minutes. .
Product Description
In the event of fire, HENSOTHERM® 820 KS forms a heat-insulating barrier of carbon foam and thus prevents the concrete structural elements from heating up and the concrete from flaking off the steel reinforcement – patented under European Patent No. 2686391
Product characteristics
Contains no halogens, APEO, borates, fibres or plasticisersLow VOC < 6g/l, A+ VOC emission class, LEED confirmation, AgBB testedVery well suited for Minergie-(A-/P-)Eco / Correspond to priority 1 of Eco-BKPImposes hardly any structural loading, space saving -> no loss of headroom, maintenance-freeColour: white, approx RAL 9010Warringtonfire EWCL Certificate No. ME 5119European Patent No. 268639
Information required for Quotation:
Required fire protection time:
Total concrete thickness:
Depth of the reinforcement steel bars in the concrete:
Amount of sqm to protect:
Product Performance
• Tested in compliance with the European standard EN 13381-3:2015, analogous to prEN 13381-3:2012
• External and in-house monitoring / building material approval no. Z-19.11-2196

Related Products
---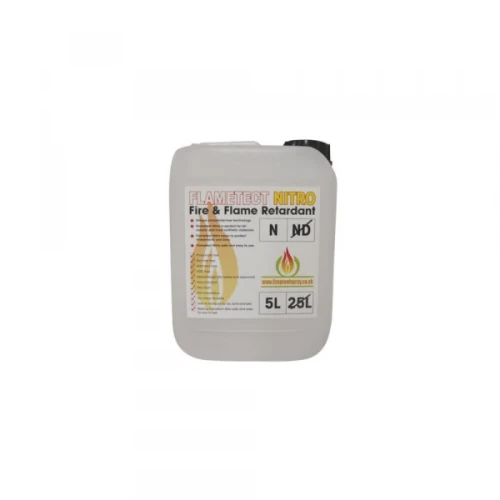 Flametect Nitro D works by disrupting the burning process, when heated extinguishing gases are creat...
Popular Categories