Designed to support fire safety professionals in ensuring compliance with fire safety measures, the FireArrest app has launched.
This new passive fire protection app allows site managers, surveyors and onsite teams to communicate across multiple fire safety projects. The app has been designed alongside firestopping professionals, specifically for use in the fire protection sector, with the aim of offering a solution that is "modern, easy to use, intuitive, wide-ranging".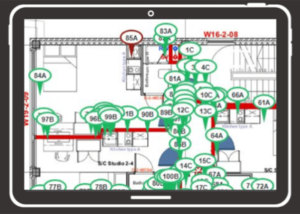 The full array of features allows fire professionals to work simultaneously on a project effectively and collaboratively while providing a complete audit trail of any work that has been completed to ensure compliance every step of the way, says the company behind the app.
Managing Director, Mark Shaw, said: "I'm delighted we have been able to roll this technology out. We've worked incredibly hard to create a product that is simple, affordable and effective. We are able to cover every stage of your passive fire protection project, from the first survey to completion. The app is full of tools and features which give users the opportunity to report and complete work efficiently."
To coincide with the launch, FireArrest has also unveiled a new website. "We've opted for a modern and sleek design, to correspond with our brand values, and we're really pleased with the results."
To mark the app launch, FireArrest is offering an exclusive launch price, with the first six-months at half price for anyone who signs up.
Find out more about the FireArrest passive fire protection software.