Product Description
This passive fire protection R5 meter box has a very similar design to the standard R5. The main differences are that it has a high-temperature lock and a fire resistant back-board fitted. The size options are identical to the standard:
Size Overall Dimensions
(Height x Width x Depth) Wall Opening
(Height x Width x Depth) Weight
Small 582 x 415 x 180 530 x 360 x 130 9.0 kg
Medium 657 x 470 x 180 605 x 415 x 130 10 kg
Large 732 x 555 x 180 680 x 500 x 130 13 kg
The fire resistance test method followed that specified in BSEN1363 and BSEN1366.
Product Performance
Fire rated steel electricity meter box tested to BS EN 1366-3 and BS EN1363-1 specifications to demonstrate a minimum of 60 minutes protection against fire penetration...
Related Products
---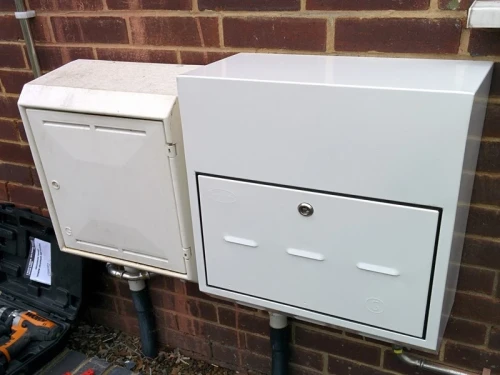 Ritherdon a new issue being picked up in fire risk assessments are gas meters installed along fire e...
Ritherdon Riser shafts running vertically up through a building are often identified as potential fi...
Popular Categories