Product Description
The Dorgard is a safe and legal solution that allows you to hold your fire doors open safely, while automatically closing them in the event of a fire. This allows for better wheelchair access, ventilation and all-round convenience without jeopardising safety or breaking the law.
Easy to follow self installation in under five minutes - View the installation instructions
Dorgard is entirely wireless and self contained
No need to hard wire into the building's fire alarm system - saves on installation time, costs and mess
Battery operated, supplied with 2 x C size alkaline batteries
Works with your existing fire alarm system
Can hold the door open in any selected angle
Dorgard automatically releases the fire door upon hearing the fire alarm
Installed in schools, hospitals nursing homes and many other public buildings
Dorgard kit contents
Manufactured in the UK
Smart, unobtrusive design available in a choice of black, white, red and mahogany
Easy foot-operated setting and release
Automatic night-time release feature
Improves access for wheelchair users in line with the Disability Discrimination Act (DDA)
Dorgard has a rubber plunger/stopper which remains in contact with the floor and, unlike magnetic fire door retainers, can hold the door open in any selected position. When a fire alarm sounds, the integral audio-electronic device inside the Dorgard signals the plunger to retract, allowing the fire door close normally (Dorgard will release after approximately 14 seconds). Dorgard is battery powered, so there is no need for complex and expensive wiring into the building's fire alarm system. This means that the Dorgard can be installed and operates alongside any existing fire alarm system currently in place. Please note that your alarm's sound level has to be higher than 65dB at the location of the door to allow the Dorgard to pick up the alarm up. This is also the required alarm sound level for populated areas according to BS5839-1:2002 (Clause 16.2).
Product Performance
Dorgard now conforms to BS7273-4:2007 Category B
Tested and certified to BS EN 1155:1997
Related Products
---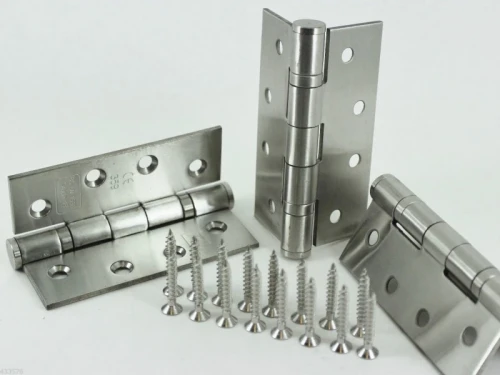 100x76mm fire rated Hinges c/w screwsBSEN1935 fire tested for both 30 & 60 minute doorsGrade 13Satin...
Popular Categories