Envirograf EP/FS/P Water-Based Primer for Steel
The Primer is a water based corrosion resistant primer for steel. For use under Envirograf® Intumescent steel paint.
This Product contains anti-corrosion additives which prevent the spread of rust on metal. It also contains flash rust inhibitors.
This Product can be stored for up to 12 months unopened in its original packaging Store Between +5 ̊c to + 30 ̊c
Protect from frost
Product Description
A red water-based primer for use on internal/external steelwork.
Product Performance
Tested to BS476 Part 20 (1987), showing that it can offer protection to structural steel for up to 90 minutes, and it has been tested when applied over multiple layers of existing paint, achieving protection of 150 minutes.
Tested to BS476 Part 22 (1987) on aluminium with Granada Windows, achieving 38 minutes of fire protection and again on aluminium with Wessex Medical lifts, achieving 49 minutes of fire protection.
Related Products
---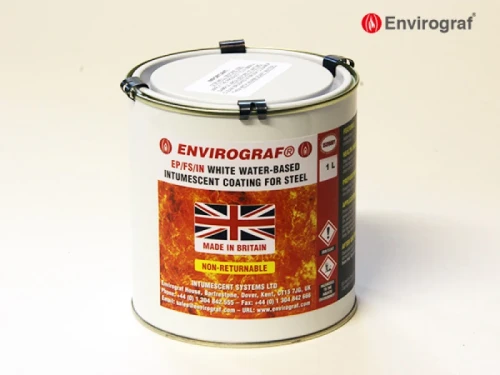 EP/FS/TCW is supplied ready for use and does not need thinning. Apply 1 coat at 10 – 12m2 per litr...
Popular Categories