Product Description
FR IPT is a high performance fire rated sealant, professional quality, one part ready to use sealant and adhesive.
Based on an innovative new Inert Polymer Technology it is suitable for a wide variety of building trade applications, Fire Protection, Decorating, Flooring, Glazing, Joinery, Plumbing, Roofing and Tiling and out-performs conventional silicone, MSP, butyl and acrylic based products as a sealant and adhesive.
Proecta FR IPT is designed for sealing joints, voids/irregular holes in walls, partitions and other structures, resulting in an airtight and watertight seal. It also provides primerless sealing and bonding on a wide range of substrates including:
Ceramic
Plaster
Plastics
Masonry
Wood
Stone
Metals
Product Performance
KEY FEATURES
Internal sealing around doors and windows
Sealing where air quality for health is important
Sanitary applications including showers
Sealing of gaps around fitted furniture and worktops
Sealing around flooring
Fire resistant sealing
Radon resistant sealing
Decorating caulking and sealing
Air and sound sealing
Related Products
---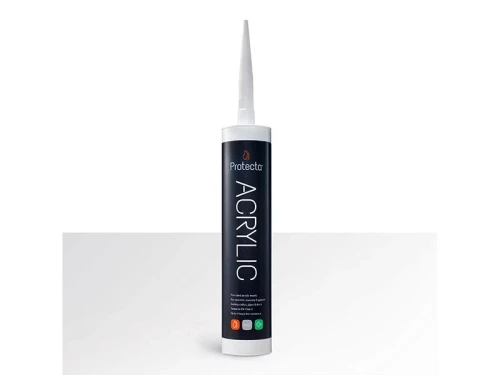 Protecta FR Acrylic is the top selling fire rated mastic in our selection of products. The reason is...
Popular Categories